The Eastern Wild Turkey (Meleagris gallopavo) is a survivor. Pretty much the only thing it can't survive is extensive habitat loss, as witnessed in the late 19th and early 20th centuries, when the eastern deciduous forest was essentially gone from near total deforestation. When farming in marginal areas was abandoned and allowed to revert to forest, populations of wild turkeys rebounded. With help from state wildlife departments, wild birds were trapped and transferred to appropriate habitat to speed up the process. Populations are now healthy and relatively stable, likely in greater numbers than before colonization by European settlers in the 1600 and 1700s.
I have a small wintering population of Eastern turkeys on my and the neighbor's property consisting of about 55 birds. This year has been particularly snowy and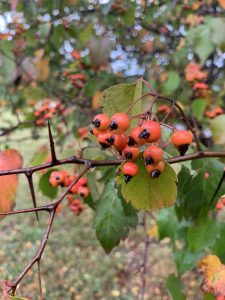 cold. We haven't seen bare ground in a couple months now. With deep crusty snow, the turkeys' foraging for acorns and waste grain in corn and soybean fields is difficult at best. Fortunately, they eat a variety of foods, and in this kind of weather I can usually count on them visiting the hawthorn (Crataegus sp.) and crabapple (Malus sp.) trees in our yard. Makes for some up-close and personal looks at them, as they feed within a few yards of the house.
A yard full of birds and three or four full-grown birds teetering in the tiny upper branches of the trees makes for quite a site. People passing by stop and stare, some having to wait as the birds cross from one side of the road to the other. Those 'habitat managers' among you who want to help winter wildlife should consider planting these two species. They are covered with showy blossoms in the spring, have colorful leaves and fruit in the fall, and provide much needed food for many different species of birds well into the winter.